The Johannesburg Holocaust & Genocide Centre
The Johannesburg Holocaust & Genocide Centre (JHGC) is a place of memory, education and lessons for humanity. The JHGC explores the history of genocide in the 20th century with a focus on the case studies of the Holocaust and the 1994 genocide in Rwanda. It examines the connections between genocide and contemporary human rights issues, urging visitors to understand the consequences of prejudice, discrimintation and othering, so as to prevent the recurrence of mass atrocities and genocide in all its forms.
The JHGC was founded in 2008 and officially opened to the public in March 2019 as a public-private partnership with the City of Johannesburg. The JHGC, together with its sister Centres in Cape Town and Durban, forms part of the association, the South African Holocaust & Genocide Foundation.
Vision and Mission
The JHGC seeks to raise awareness of the evils of genocide with a particular focus on the Holocaust and the 1994 genocide in Rwanda; to serve as a memorial to the six million Jews who were killed in the Holocaust, all victims of Nazi Germany and the estimated 800,000 Tutsi victims of the Genocide in Rwanda; and to teach about the consequences of prejudice, racism, antisemitism, homophobia and xenophobia and the dangers of indifference, apathy, and silence to freedom and democracy.
The JHGC is a not-for-profit educational institution and our expenses are covered through donations and partnerships with individuals, foundations, corporations, embassies and national and international government and non-government organisations.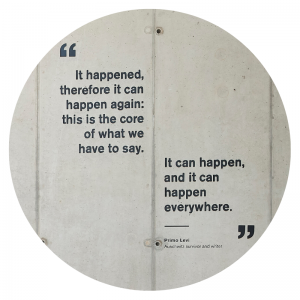 Educational and Public Programmes
In 2007, the study of "Nazi Germany and the Holocaust" and "Ideas of Race in the 19th and 20th Centuries" was incorporated into the National High School Curriculum of South Africa for Grade 9 Social Sciences and Grade 11 History learners. The JHGC assists provincial education departments, schools and educators with these human rights modules by facilitating comprehensive and engaging educator training and learner workshops.
Educational programmes are run by our passionate and knowledgeable facilitators and volunteers, making use of permanent and temporary exhibitions, survivor testimony, multimedia and interactive activities. By using the history of the Holocaust and 20th century genocide as an entry point, participants are then able to explore more contemporary themes such as moral choices, human rights and social activism.
The JHGC also hosts regular public events and programmes, including temporary exhibitions, lectures, film screenings, commemorations and other special workshops, which explore various topics related to genocide and human rights.